Center for Human and Clinical Genetics
Correspondence:
Department of Human Genetics
Leiden University Medical Center
S4-P
P.O. Box 9600
2300 RC Leiden
The Netherlands
Visiting address:
LUMC, Building 2
Einthovenweg 20
2333 ZC Leiden

Secretary:

Room: S-04-048
Tel: +31 - 71 - 526 9400
Fax: +31 - 71 - 526 8285
E-mail: humgen@lumc.nl
To our Institute
---
The directions to the LUMC can also be downloaded in PDF format:
English | Dutch


From Schiphol Airport
---
By train
Walk to the train station (about 5 min. from the departures exit)
Take the first train to "Leiden" (leaves about every 15 min, the journey takes about 15 min)
In Leiden (usually the first stop for the intercity trains or the fourth stop for the all station service) leave the train and take the entrance to the LUMC. It's only a short walk to our building (5 min).


Cross the street and take the pedestrian path towards the LUMC; turn right when in front of the main entrance
After some 100 m turn to the left, i.e. take the road between the main building and the Parking building
Follow this road for another 100 meters and at the crossing take the road to the right between the two buildings. Our building is the left one.
Walk up the wide stairs and contact the security office on the right hand side after entering the building.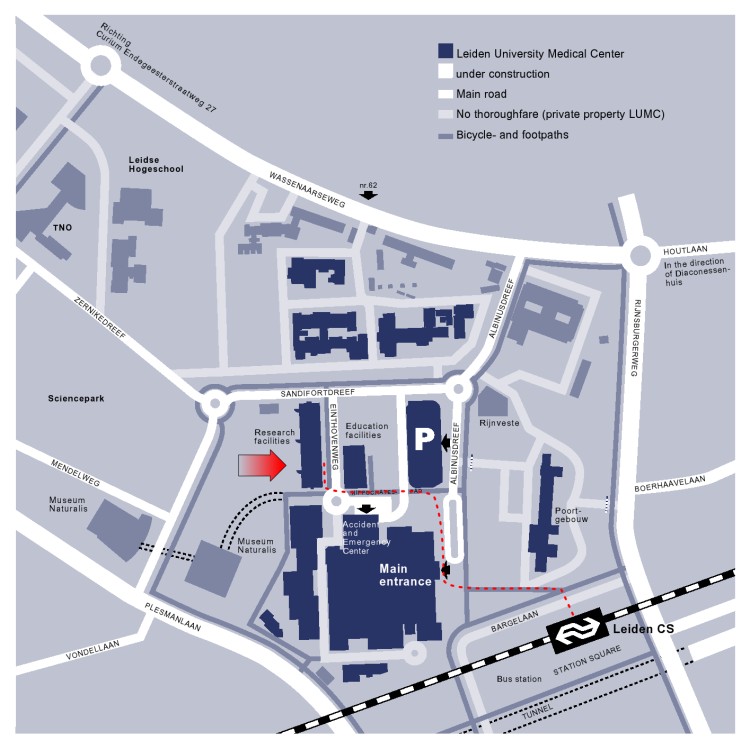 ---
By car
Take the highway A4, direction "Den Haag".
After passing "Nieuw Vennep" the 4-lane highway splits in two 2-lane highways; take the highway that turns slightly to the right, direction "Leiden-West" (Highway A44).
Follow the A44 until exit 8 (Leiden, Noordwijk, Katwijk, N206). After the exit make a left turn and drive under the viaduct.
Then follow the signposts "H-Ziekenhuizen" to the LUMC.
---
---
[ Top of page | HCG INTRANET ]
[ Leiden Genome Technology Center ]
---
---